My name is Crystal Okemow, I am the Chief of Lucky Man Cree Nation. My position as Chief has been since 2016. My objectives/goals while Chief is to start development of our reserve lands but also to scope out economic opportunities for Lucky Man. Developing the reserve is crucial to our existence but so is re-awakening wahkotowin. As a Nation, we need to have a place for communal living so that we can connect to Mother Earth. Also, to learn and practice our culture and traditions, learn and protect Treaty & Inherent Rights, learn about our ancestors and history, learn about ourselves. We need to learn about wahkotowin and promote that sacred traditional teaching.
Papewes/Lucky Man left a legacy for all of us to carry on. We all have a responsibility in carrying on that powerful legacy, But we all have a role of our own in leaving a legacy for the generations to come. I believe in working together to be a successful Nation. The work we put in today will be the legacy we leave for the tribe members yet to be born. Looking for economic opportunities for the Nation is a constant for the leadership. Being a self-sustaining Nation is a definite goal.
I am the Chairperson of both Battle River Treaty 6 Health Center and Keyanow Child and Family Center. These are recent positions; I've been the BRT6HC chairperson since December 2021 and Keyanow Chairperson since January 2022.
The FSIN Commissions I sit on are Lands & Resources, Saskatchewan First Nations Women Commission, Gaming Commission, Education Commission. I also sit on the Saskatchewan Indian Institute of Technology (SIIT) Board. I am a board member of both the Battle River Indigenous Relations Council and the Battlefords Regional Community Coalition.
I rely on prayers, elders, knowledge keepers and ceremonies for strength and guidance. The teaching of pahstowin keeps me doing the good work on the right road. For those of you that don't know what that is, it similar to the belief of karma. I observe people and other nations and learn from their experiences. I don't believe in the answer. Where there's a will, there's a way. Through God grace, will come victory and fulfillment for Lucky Man.
I am more aware and understanding of the past leadership in their struggles to get things started and the roadblocks they encountered. I am grateful and thankful for the additional people who stepped up to assist me with getting Lucky Man moving forward. With the amount of work, time and energy that is needed to get anything started for Lucky Man, it would not have been possible without them and all their hard work...Bonnie, Dana and George.
I'm proud to be from the Lucky Man tribe. There are no sides in Lucky Man, we are all one!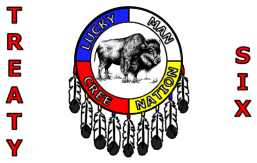 Specific Claims.....Continue Process to Completion
Treaty Protocols
Treaty Governance
Preparation Of Proposals.....Terms of reference Developed in Council Meetings
Media....Communications
Intergovernmental Affairs
Commissions & Boards
Administration......Finance, Computer Services
Liaise with:.....FSIN, Federal Government, Tribal Councils & First Nations